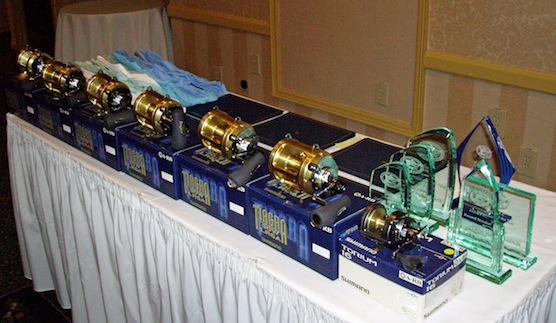 The JOSFC's Annual Awards Banquet is October 19, 2019
Tickets are available from any Board Member, or at the Club Meeting on Oct. 4th or at the door.
They are only $35 / person for a fun relaxing evening with friends!  You can also e-mail or text Bill to reserve your tickets to pick up at the door.
breenw@bellsouth.net           904-254-2791
September is over and the Club's Fishing Boards have closed!  The various Board winners have been decided, along with our Captain of the Year! Our club's Annual Awards Banquet will be held October 19th.  It will be held at the Fraternal Order of the Police Lodge located at   1  Sawgrass Rd. Jax Beach Fl 32250.  Don't try to find it on the internet, you WILL get LOST!  There is a Map and directions at the bottom of the page.   Cocktails start at 6:00 PM with Dinner at 7:00 PM  The Awards Banquet is open to members and their guest only.          ( NO Children )   This is a really FUN evening with awards for good catches and embarrassing mishaps!   There is also a cash bar with adult beverages!

We also have the biggest Raffle / Fund Raiser of the year that is supported by the members only! ( BUT . . .  You can always join at any time, we always welcome new members! )   This year like last year we will be at the Fraternal Order of the Police Lodge which is a really great place to hold our Banquet.  We will be catered by "Moore Fine Foods Inc." and boy do they have a delicious menu!  To just give you the names of the dishes just don't do it justice, so here is the LONG version:
Dinner:
Selection # 1
We will be having a great "Low Country Boil" as the main dinner.  What's in a Low Country Boil?    Lots of big delicious Mayport Shrimp!
Fresh Sweet Corn on the Cob.
Choice Red Potatoes cooked to perfection.
Plump Pork Sausage, both mild and spicy.
Chopped Sweet Vidalia Onions.
Did I mention lots of Plump Delicious Mayport Shrimp?
The Low Country Boil will be cooked two ways. One with all the usual Spice to have a nice bite, and the other without the spice for those wimps ( Like your editor ) that don't like to have their food bite back.
Selection # 2     For those people that have seafood allergies.
We will have Delicious Seasoned to perfection Prime Pork Loin
For sides we will have a delicious Rice Pilaf .
Also there will be a vegetable of some type, whatever we can find that is freshest come the 3rd or 4th.