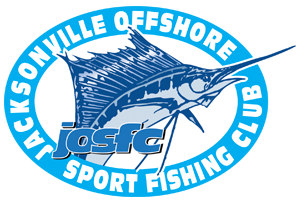 The Jacksonville Offshore Sport Fishing Club is a sporting association started in 1959 as a group of local fisherman committed to making offshore fishing in the Jacksonville area more exciting, reliable, safe and beneficial.
The JOSFC is the pioneer in Artificial Reef Building and Maintenance in the state of Florida. The program began practically at our inception and has grown into today's collaborative program with the City of Jacksonville.
Currently we are enhancing existing, permitted areas.
Throughout the year the club holds internal and public tournaments and social activities as well as educational seminars. This club is for everyone, novice to pro, boat owner or not, young or seasoned. We look forward to welcoming YOU aboard. Please join us every 1st and 3rd Thursday at 7:00 PM at the Mike Scanlan (Mayport) Public Boat Ramp in the Clubhouse. (Map bottom of Website.)