Meghan Traylor 2022 El Cheapo Winner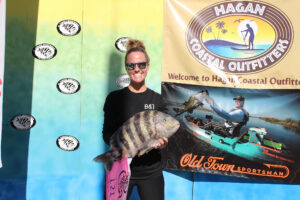 The 2022 El Cheapo Sheepshead Tournament went off without a hitch!  There was great weather, sunny and warm, and a lot of Sheepshead were caught.
This year we had a tournament where you could enter both the Ladies or Kayak tournament AND you had the option to also pay an additional fee ( Not the entire General entry fee. ) and also enter the General tournament!  This way if you paid for both and your fish would win a better prize in the general tournament than in your specialty section you got to move up to win the better prize.
Well that really paid off for Meghan Traylor, She caught an 11.06 Pound Sheepshead as a Lady Angler, BUT She also paid to enter the General Tournament.  She moved over to win the entire thing!  Her fish was the biggest Sheepshead caught this year and she won the Grand Prize.   Way to go Meghan!
Meghan REALLY loves the El Cheapo Tournament, and has a long history with it!   It seams that 14 years ago, her future Father-In-Law, Paul Traylor won the El Cheapo with a 10.7 pound Sheepshead.  Fast forward 7 years to 2015, and her boyfriend and she were fishing the El Cheapo, they had 29 fish, just 1 short of their limit.  Meghan refused to leave until they caught that last fish!  They finally caught it and after that her boyfriend proposed to her!   Fast forward another 7 years and SPLASH!!! Meghan WINS the EL Cheapo Grand Prize!   I think we will see the Traylor's fishing the El Cheapo for years to come.