2017 El Cheapo is in the Books!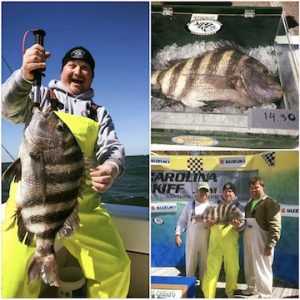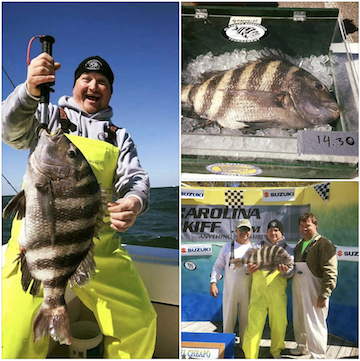 The 2017 El Cheapo Sheepshead Tournament was a big success, and is now HISTORY!
Yes, History was made with the winning fish setting a new Tournament record, breaking the old 12.9 Pounds record  by a whole 1.4 pounds!  SO . . . . . .
Congratulations to the winner of the

El Cheapo Sheepshead Tournament

… Chris Beasley and crew!
Check out his stud 14.3lb monster!
There were almost 400 boats registered, over 100 lady anglers, 95 junior anglers and 20 kayakers.
The tournament was won by Chris Beasley who weighed a 14.3lb fish which broke the previous tournament record of 12.9lbs.
Our junior angler division was won by Errol Dedic with a 7.7lb fish,
Jessica Valerio took 1st place in the ladies division with an 8.8lb fish,
Tan Raulyn took the kayak division with a 9.1lb fish.
Go to our Facebook page for all the results.  Link at the bottom of this page.