This is the Face of the JOSFC, a fun, family friendly, regular people fishing club!
We are average fishing people like you that love to fish.  Most of our members boats average 18′ to 26′ center console outboards and we even have members that don't have boats, they fish as crew on other members boats, and help pay for gas and bait.
We meet on the FIRST and THIRD THURSDAY of each month at the Mayport Community Center located at the Mayport Boat Ramp. ( See the map at the bottom of the Home Page. )  When you visit us we will feed you a free meal starting at 7:00 PM with the speaker or activity satrting at about 8:00 PM
This is a fishing club for ALL Anglers!
As you can see from the above photos, we fish both OFFSHORE and INSHORE. Our membership is very diverse with both inshore fishermen and ladies that have everything from kayaks to flats boats to fish the St. Johns River, it's backwaters and sloughs. AND bigger center consoles, walk arounds and Catamarans for a great day fishing Offshore! We have a slate of Tournaments for just the inshore captains for the title of Inshore Captain of the Year and a separate slate of Tournaments for the title of Offshore Captain of the Year. These tournaments are free for members to fish, and are fun to fish as you are NOT fishing against pro fishermen, but the person that sits next to you at the club meetings!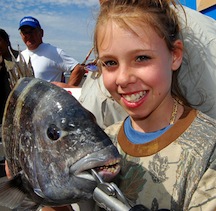 The Jacksonville Offshore Sport Fishing Club also puts on one of the biggest Tournaments on the East Coast, the now famous El Cheapo Sheepshead Tournament!  We draw fishermen and ladies from as far North as Maine, and West as Texas and South from the Florida Keys.  This is how we get our operating funds for the year, and it is done with all volunteer work by us members.  While a little work, it is really a fun filled two days.
Here are some of our most asked questions about membership in this great club.
What does it cost to join the JOSFC?
     Dues for the JOSFC are really inexpensive!  The dues are for a FULL YEAR,  only $65 for an individual annual membership, and $75 for a family annual membership!    There is a ONE time Application Fee of $25 on top of the annual dues when you join, but the Membership Packet you get is worth way more than that.
What do I get for my dues?
     How about Expert Guest Speakers and or expert training sessions on things like throwing a cast net, knot tying, boat and reel maintenance, Club only unpublished "NUMBERS", 24 dinners for you, your family and any guest you bring to a meeting.  Up to date information on what is biting, what tide to fish for the best luck for what ever species you are fishing for, what water temperature is best for what you are fishing for, and what bait is working best right now! You can also get to either go with other members or have them go with you to show you the local ropes and they may even give you a "Number" or two!  You also get a monthly Newsletter, E-mail, up-dates on important fishing matters and discounts at some stores , as well as getting a club $5 "Fish Slip for every fish that you post to the fishing boards that is the biggest of that species. Those "Fish Slips" can be spent at several fishing stores like cash.
What do my dues pay for?    
     The JOSFC is a Not for Profit Charitable Club.  We have been responsible for over 270 reef placements and refreshments here off Jacksonville, giving us some of the best fishing off Florida!  Our Seminars and Training sessions are open to the public and advertised in the local media and newspaper, and we stress Water and Boating Safety in all our seminars!
     We also provide that meal at every meeting so you don't have to get off work, go home, eat dinner and decide that you are too tired to get up and go to the meeting and miss yet another GREAT seminar that you really wanted to attend!
     We also end every meeting with a good Raffle with a good Rod & Reel Combo worth about $150  as the grand prize! 
It won't cost you anything to visit us, but I am positive you will like our club, SO . . . . .  Bring your money JUST in case you decide you like the club and want to join that evening!  Oh the Raffle is also open to all that are there!
Consider this your personal invitation to join us!