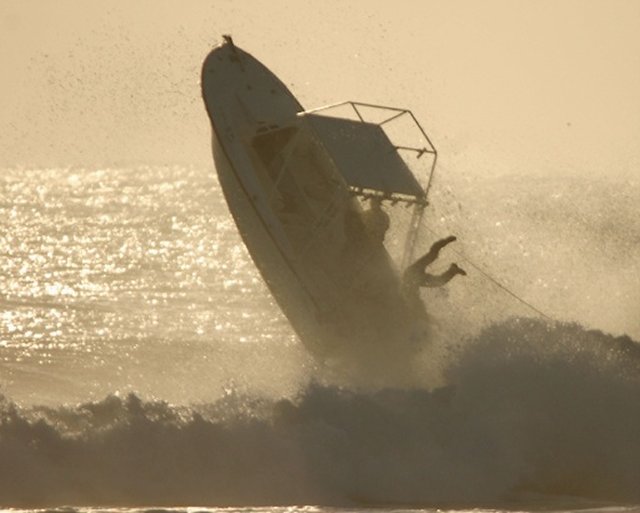 During the past year there have been many stories in the media about boaters being tossed into the water when encountering large wakes and high waves. As the weather warms and we enter the peak boating season, I thought it appropriate to remind everyone of the ever present dangers when encountering a high wave or crossing another boat's wake.
Crossing the large wakes of other boats is inevitable. Large vessels often create a dangerous rolling wake, and they can create disturbances in the water for thousands of feet behind them.  A wake is essentially a wave. Always alert your passengers when you see a wake coming. An unexpected wake can toss people around in the cockpit or cabin , and even overboard. Severe injuries or even death could result from from being tossed about by an unexpected wake. Always minimize the effect of large wakes by reducing speed and turning into the
wakes/waves at about a 45 degree angle.
Whether cruising the river, leaving and entering the jetties area, or  in the open ocean, you should be alert to protecting yourself, your crew and your boat from the potential dangers of large wakes or high rogue waves.
Nationwide, a number of people have lost their lives, and many were injured, some permanently, in encounters with boat wakes. For instance, in Florida a man was slammed against his center console and broke several ribs when he hit a large wake from another vessel.
Statistics show, however, that the most critical injuries such as fractured vertebrae and compression fractures, tend to occur when people are seated near the bow. Listed below are a few recommendations to protect yourself, your crew, and your boat from wake damage:
Make sure your passengers are seated aft or amidships and away from the bow.
Warn your passengers to sit down, if standing, when approaching another boats wake. In some cases, passengers were thrown out of the boat.     ( Another reason to wear your life jacket)
Don't wait until you are in the middle of a wake to slow your boat. Slow the  boat before the wake arrives to lesson the impact.
Don't come to a complete stop.  Maintain at least some headway into the wake to prevent the bow from being pushed to the side and the boat possibly being swamped.
Don't hit wakes or large waves head on. Try to cross the wake/wave at a slight angle. This will allow your boat to grip the wake/wave longer and prevent the bow from being thrown high into the air.
When overtaking another boat, cross it's wake quickly rather than riding the waves. Keep both hands firmly on the wheel and stay well away from the overtaken boat's stern.
Avoid taking a steep wake on the beam which could swamp your boat. It is better to turn back into a wake briefly and then come back on course.
Never, never, overload a boat. Overloading a boat is foolhardy, even in calm waters. A 29 year old man drowned in the Chesapeake Bay  when his 17 foot boat with 8 people on board was swamped by a passing boat.
Always try to anchor away from busy channels. And, never, never, never anchor your vessel by the stern. Many boats are swamped each year by this one mistake. Just recently, an agency investigating a deadly boating accident involving two NFL players and their friends in the Gulf of Mexico concluded it was caused when the vessel was improperly anchored and that the boat capsized after one of them tried to throttle forward to pry loose the anchor.
Follow these common sense rules to protect yourself, your crew and your boat. Always remember the successful boating/fishing trip is the one that begins and ends safely. May you continue to enjoy safe boating throughout the year.
Top Ingram
Fishtales